Smart shopping at the grocery store can help you save money. But smart shopping is more than just clipping coupons and buying things on sale. It requires having a shopping strategy. You see, grocery stores are professionally designed, and laid out to get you to spend as much money as possible. By learning some of their secrets and techniques, you can help keep money in your pocket.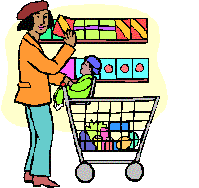 To help you improve your saving money habits, here are some grocery store spending and saving tips and advice.
ON SALE ITEMS TO AVOID
The grocery store is professionally organized to get you to spend as much money as possible. Often, "on sale" items are displayed at the front of the store or at the end of isles. Don't assume that these items are actually a bargain, since the manufacturers or distributors of those products are actually paying to display their products.
BUY ONLY WHAT YOU NEED AND CAN AFFORD
Before grocery shopping, write a list of the items you need. Then, when shopping, only buy those items. Avoid putting other things in your cart that catch your eye. Supermarkets want to take advantage of people buying things they did not intend to purchase, so be a smart shopper and use a shopping list.
Also, don't buy more than what you can afford. You are probably better off using cash than a credit card, if using a credit card puts you into debt. If you only bring the money you intend to spend, then you can't spend any more.
AVOID CONVENIENCE ITEMS
Don't purchase items that are convenience items, such as prepared vegetables or pre-made sandwiches. These items are more costly, and you are better off buying your own ingredients and making them yourself.
BUY ITEMS IN BULK?
Buying items in bulk used to be cheaper. However, these days stores figured out that they could actually charge more, without consumers realizing it. The bigger box of cereal may actually be more expensive than the smaller box. Therefore, the best bet is to comparison shop and see if you are actually getting a better bargain.
CHECK THE ENTIRE SHELF
Grocery stores will often place the higher priced items at eye-level. Again, consumers choose more items to buy from eye level. So look at the top and bottom of the shelf for potential better bargains.
Also, often the healthier (and less expensive) items are more difficult to find. Packaged, prepared foods are more costly and generate bigger profits, so try to find the healthier items.
KEEP YOUR RECEIPTS
If after shopping you discover that the store or another store that has products you purchased advertised at a lower price, keep your receipt and go back to the store to ask for a discount.
TRACK PRICES
Keep track of the prices you are paying for items you often purchase. Then keep that list with you when you shop. That way, if something is "on sale" you will know if it is really a sale or not. If you find a good discount, then buy enough extras, if the item does not spoil.
HAPPINESS AND SHOPPING
Many people shop just to feel good. Shopping helps make you happy. However, to save money, you need to keep your emotions in check — always remember to stick to your budget and your shopping list.
DON'T SHOP ON AN EMPTY STOMACH
Don't shop when you are hungry. People tend to buy more, and a larger amount of the things they don't need when they are hungry, so always shop with a full stomach. Also, prepare to dress more warmly, since supermarkets are often cold, because the cold temperatures actually makes you hungry so you buy more!
BUY THE DEALS – AVOID THE REST
One shopping technique is to shop more often, and focus your shopping on the special deals given by the store. Then go visit other stores to buy their special promotions. Many stores rely on the fact that you will buy more than the specials, to make their money and maximize profits. However, you must remain disciplined and don't be tricked into spending more than you plan when entering the store.
OTHER SUGGESTIONS
Try to buy generic, no name brands when possible. Especially for staples such as flour, salt, etc.