Shopping for groceries is an inevitable fact of our ever busy lives. We may imagine that we are saving time by dashing in, roaming the aisles and throwing whatever looks good into the cart. Most often, what we end up with is repetitive, nutritionally unbalanced meals and ballooning grocery bills. Maybe worse, we have frequent fast-food stops and pizza calls.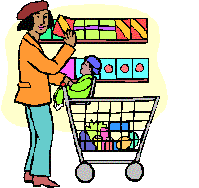 Brighten your meals and save time and money by planning ahead – an added bonus you may even save a few calories. Here are some more money saving tips:
Before you visit the grocery store each week, check out the Sunday circulars. Clip coupons while you watch television or get your children to lend a hand. Organization is the key to the coupon game, so invest in an accordion coupon file. Trust me, it's infinitely easier than rifling through small slips of paper or finding yourself without the coupon you need when you get to the store.
Look through the food section of your local newspaper. You'll get some great ideas about bargains to look for as well as what produce, seafood, etc. is in season. The circulars and the food section are two places to begin building a weekly menu, that isn't boring, on a budget. It's also a good idea to comb the Internet. There are a wealth of sites offering ideas for budget menus.
Consider joining a shopping club such as Sam's or Costco. If you don't have the storage space, but would like to benefit from the savings and convenience of buying in bulk share the bounty with a friend. You can each take a turn shopping from a list once a month or so.
Keep your receipts for a month or longer and notice the high, low and average prices on the items you buy most. When the price hits its low, buy a few so that you can skip it when it slides into the high range.
Experiment with 5 ingredient meals. There are a number of books, videos and web sites that help you make great meals with only a few ingredients, even on weeknights.
Check out sites on the internet for information on rebates, refunds, freebies and other savings. If you do take advantage of rebates, complete forms meticulously and keep copies of receipts, UPC, proof of purchase documentation and contact information for the vendor.
Include your local grocer's weekly circular in your savings plan. When store sales are coupled with the savings cards now offered by many grocers you can save hundreds of dollars each year.
Pay attention to promotions. Some grocer's offer rewards if you spend the target amount within a specified period. Rewards generally include a percentage off of your grocery bill at a later date or cash back.
Curb impulse buying. Grocers have developed their floor plans with your dollars in mind; the object, get as many as possible with proper product placement. Learn the layout of your store and make a beeline to your destination. Temptation is especially tough in the check out aisles. Fight the urge to succumb to these powerful marketing practices by making, and sticking to, a list.
Try not to shop when you are starved. It makes sense that you are more vulnerable to impulse buying when you are hungry.
Make a budget and take a calculator to the store.
Compare prices. Store brands are not necessarily least expensive. Take just a moment to scan the shelves for best prices on the items you buy. When comparison shopping, make sure to take note of per unit costs.
Look below eye level. Bargain priced items are often shelved below eye level and out of your immediate view.
Grocery shopping can take a big chunk out of your budget if you are not careful. With just a small investment of time you will realize savings that you can take to the bank.