You've wanted to apply for a job for a while now, but just can't seem to get excited over working down at Mickey D's even though you love their fries. And you've babysat until you feel about two years old yourself. And the thought of working at the mall makes your head ache.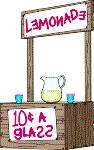 Fortunately teens don't have to be stuck in those same old teenage jobs anymore. With a little creativity and thought, you can start your own business. That's right. More small businesses than ever are owned and operated by teenagers.
It's true! Many teenagers have great online businesses going, particularly on auction sites like Ebay where they can buy and sell everything from used CDs to old clothes. Auction sites make it possible for a teenager to make some extra spending money selling their old stuff so they can, yes, buy new stuff!
Smart teenagers are taking the money they earn from their first Ebay sales to buy higher ticket items to sell that will make them more money. Just be sure you understand how auction sites work and that you have your parents' approval before starting up your own Ebay selling machine.
Not all teen businesses have to be Internet-based businesses to be successful. Maybe you like to wash cars. That's a great way to make money in America where cars rule. Many people will pay as much as $100 to have their cars washed and cleaned on the inside. Not bad for a couple of hours of work, is it? You can also make good money doing chores and light housekeeping for neighbors who may not have time or be able to do them themselves.
Or maybe you're a "crafty" teen. If you are, then you should think about starting your own jewelry making business, for example. Or you could knit and sell scarves and shawls—they're one of the latest fashion trends, after all. And specialty boutiques will, pardon the pun, scarf them up like mad.
Some other craft-related businesses you may want to consider starting are:
Card making
Scrapbooking
Cake or cookie baking
Wood carving (only if you're very careful, though)
Gift basket making
Model building
Hopefully these ideas have your creative juices swirling and you know just what kind of business you'd like to start. If not, keep thinking and do some research. If you still don't come up with a cool business idea of your own, well, there's always Mickey D's.