Upon returning from a great weekend getaway, it's common to feel the rush of reflecting on your vacation. For many busy professionals, the memories of travel soon turn to uncertainty as the bills and fees start to add up. Whether you're looking to get the most out of your everyday life or want to extend your leisure budget a bit further, there are effective ways to limit banking fees and costs.
When it comes to getting more from your income, each penny counts which is why freedom from fees can help you to enjoy every minute a bit more. Most banks offer vario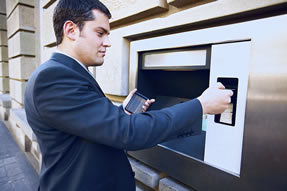 us tiers of banking accounts depending on your needs from high usage accounts with many features to basic, no cost checking accounts. Today, it's harder to find fully featured free checking accounts without deposit minimums – instead, most tiers of bank accounts require stringent conditions. Understanding your current position and needs can help guide you to the most cost effective choice.
Evaluate multiple banks for the right network and features for transactional banking
If you travel often or need extended support, then you'll want to bank with a network with a larger reach. Major banks such as Bank of America, Chase and Wells Fargo have a presence in nearly every state – the result is you can access branches and ATMs for basic services. This makes transactions easier and more accessible.
Consider opening a credit union account for some  asset and local services
Often times, students, retirees and other people can benefit from access to higher yield accounts and fee-free services. Local and regional credit unions, often tied to organizations and work places, can offer better terms than some national banks. Always evaluate whether a credit union can deliver what you need for a portion of your assets.
Budget carefully so you can put yourself at risk of overdraft or transaction fees
With careful planning you can keep ahead of the curve when it comes to avoiding some banking fees. Always plan your spending and saving so you maintain a positive balance, have access to funding sources and can take care of emergencies without putting yourself at risk. Building up basic savings and providing a cushion can ensure you remain in positive territory. Maintaining a portion of your savings in liquid assets, such as money market accounts, can protect you against potential emergencies when they arise.
Rely on Technology to Guide your Banking
Modern tools such as online banking, online tax returns and Mint financial planning software can provide free (or low cost) alternatives to expensive professional services. You can use intelligence options to get more from your money to make smart decisions without incurring fees.
Just imagine getting charged a fee for each traveler's check, large ATM withdrawal, overdraft fee, and currency conversion – you can clearly see how the right account can make a world of difference at home and away. While these flexible structures offer more choice, always make sure you fully understand how these features will impact your overall checking expenses. Various options from overdraft protection to extended ATM networks and traveler's checks privileges can offer value add services which save you significantly in the long run.