In the 19th Century, people left the house without a personal calling card. About the size of today's business card, the calling card was handy for giving people your address or leaving it behind when you called on someone who wasn't home. Use a similar technique in the 21st Century. Create a job seekers calling card!
A job seekers calling card contains your name, telephone number and the career position you are seeking. It can also summarize your skills and qualities as a worker.
You can easily create one on any computer and print out several using special business card or index card paper. For a more polished, and more expensive, card, you can take your text to a quick-print shop and ask them to typeset and print it.
Give your calling card to people you meet during the course of the day, even if they cannot give you help finding a job. Tomorrow they make think of something, using the calling card to get your phone number.
Attach the card to letters you send requesting informational interviews, job sharing, or telephone calls for career advice.
Attach the calling card to job applications.
Attach it to your resume.
A job seekers calling card might look like this: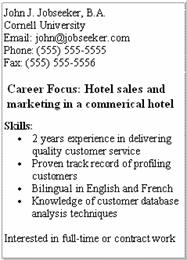 Don't try to cram too much information on the card.  Focus on your skills and the type of job you are seeking. Avoid lots of graphics and multiple fonts. You want the card to be clean, simple, and tell anyone who sees it exactly what you are seeking.